​​​FAIR OFFICE HOURS ​​

​MONDAY - FRIDAY

​9 a.m.  to 5 p.m.

      2018 

Exhibitor's Guide

CHECK OUT ALL THAT IS HAPPENING AT FAIR THIS WEEK!

GRANDSTANDS, FREE SHOW TENT, AND THE SHOW ARENA.
PLEASE CLICK ON THE FAIR TAB FOR ALL THE EXCITEMENT!!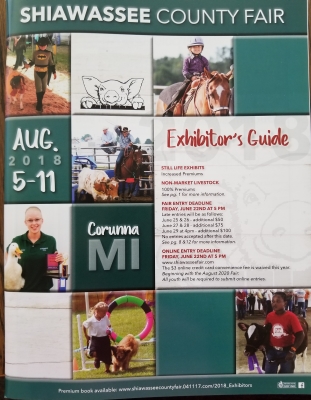 ​​

YOUTH MARKET LIVESTOCK AUCTION
YOUTH MARKET SMALL ANIMAL AUCTION
Click below 
for the 
Sale Bill
Saturday, August 11 

Market Goats- 12:00 Noon
Market Rabbits-Immediately following
Market Poultry- Immediately following 
Followed by Market Turkeys
Friday, August 10
Market Swine- 11:30 AM
Market Lamb-Immediately after the Market Swine
Market Steers- 7:00PM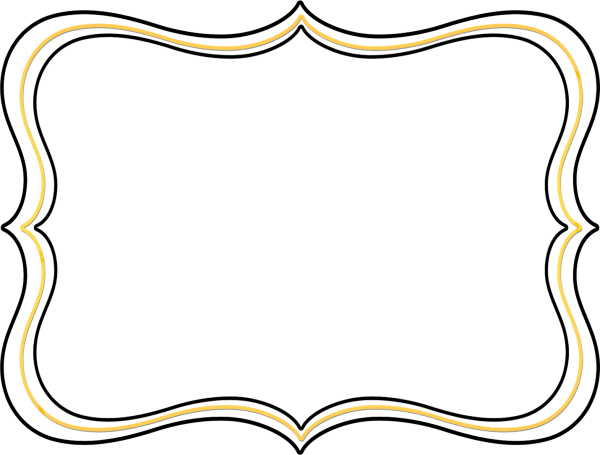 1st Ticket = $300
25th,50th,75th, &100th Ea. Ticket =$100
125th, 150th,175th Ea. Ticket= $100
198th Ticket = $750
199th Ticket + $1,500
200th Ticket = $4,500
* Drawing Date December 8th, 2018
* 6:00 PM to Midnight 
* Durand VFW
Need not be present to win .
REVERSE RAFFLE TICKETS​
NOW AVAILABLE
​$100.00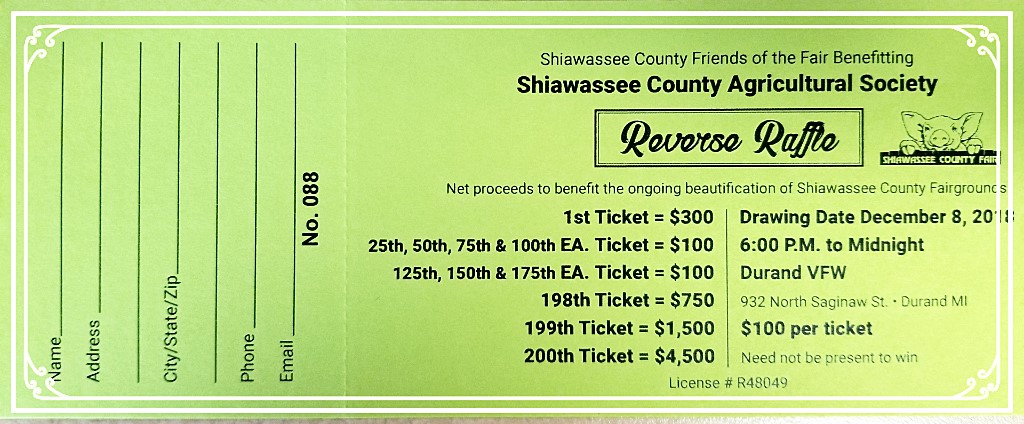 Net Proceeds to benefit the on going beautification of Shiawassee County Fairgrounds 
Introducing our 2018 Shiawassee County Fair Queen: 

​ Avianna Jackson 

and Fair Queen's Attendant: 

Savannah Taylor 

​We would like to thank all the girls that participated in the pageant this year! 
Avianna Jackson is a 17 year old Senior attending Corunna Public Schools. Her parents are Rick Jackson and Amy Zdunic Jackson and resides in Durand. Avianna has exhibited at the fair for 10 years now with projects in horses, beef, and poultry. Avianna sits on the Fairboard as a Junior Advisor. She is an active 4-H member and Corunna FFA member. She participates in Varsity Swim Team, High School Marching band, Symphonic Band, and Corunna Equestrian Team. 

Her future plans are to attend LLC for 2 years then transfer to MSU to major in animal science in hopes to one day becoming a large animal veterinarian. Her sponsors were Harvest Mills, INC and Zdunic and Sons Trucking.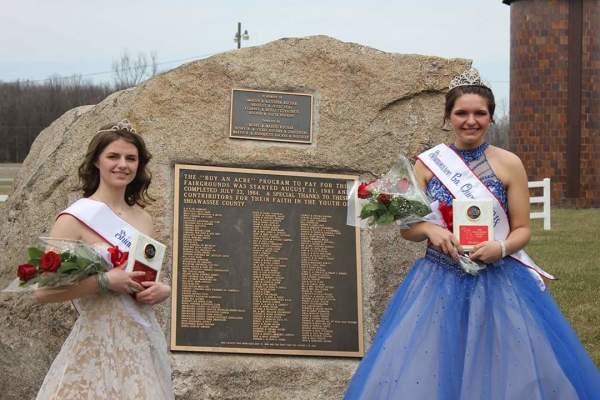 Savannah Taylor is a 18 year old Senior attending New Lothrop Public Schools. Her parents are Doug and Jannelle Taylor and resides in New Lothrop. Savannah has exhibited at the fair for 9 years now with horses. Savannah is active in National Honor Society, 4-H, FFA, Student council, Proud Equestrians Program and track. Savannah's future plans are to complete the 5th year program at LCC and transfer to MSU for veterianarian science. She would like to master as a vet surgeon and some day own a clinic for all animals.  Her sponsor was The Wire Horse. 

Fair Queen's Attendant: Savannah Taylor    Fair Queen: Avianna Jackson 

2018 SCAS Scholarship

​**NOW AVAILABLE**

Download the application today located under the Youth tab!
Office Hours